Joint replacement is the surgical replacement of a joint with an artificial prosthesis.
Great advances have been made in joint replacement since the first hip replacement was performed in the United States in 1969. Improvements have been made in the endurance and compatibility of materials used and the surgical techniques to install artificial joints. Custom joints can be made using a mold of the original joint by duplicating the original with a very high degree of accuracy.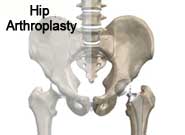 The most common joints to be replaced are hips and knees. There is ongoing work on elbow and shoulder replacement, but some joint problems are still treated with joint resection (the surgical removal of the joint in question) or interposition reconstruction (the reassembly of the joint from constituent parts).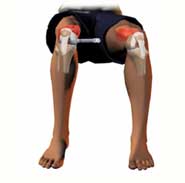 Seventy percent of joint replacements are performed because arthritis has caused the joint to stiffen and become painful to the point where normal daily activities are no longer possible. If the joint does not respond to conservative treatment like medication, weight loss, activity restriction, and use of walking aids such as a cane, joint replacement is considered appropriate.
Precautions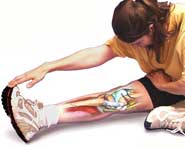 Joint replacements are performed successfully on an older-than-average group of patients. People with diseases that interfere with blood clotting are not good candidates for joint replacement. Joint replacement surgery should not be done on patients with infection, or any heart, kidney or lung problems as that would make it risky to undergo general anesthesia.
Description
Joint replacements are performed under general or regional anesthesia in a hospital by an orthopedic surgeon. Some medical centers specialize in joint replacement, and these centers generally have a higher success rate than less specialized facilities. The specific techniques of joint replacement vary depending on the joint involved.